The MyKnee® technology, developed by Medacta®, was first used in September 2009. Since then, 10,000 MyKnee® surgeries have already been done, a number reached in January 2013. This is a big proof of Medacta®'s Patient Matched Technology (PMT) success.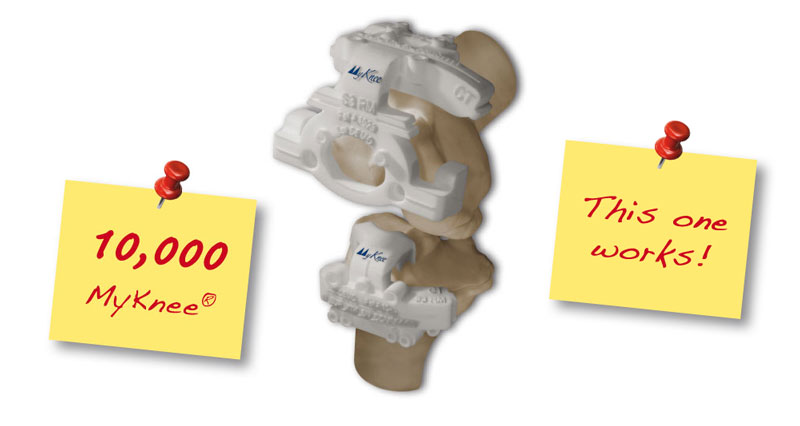 This success has to be related with 2 main reasons: its specific characteristics and its proven accuracy and effectiveness.

MyKnee® offers a set of specific characteristics. These characteristics were added in order to improve the procedure's benefits and success.
Actual cutting blocks, not only pin positioners
CT or MRI based, that allows surgeons to follow their preferences
Online interactive 3D planning, without any extra software needed
Complete in-house technology ensuring the assistance of a personal MyKnee® technician and only 3 weeks lead time!
A lot of studies have recently been published about MyKnee®1-11. In all of them the conclusions were consistently positive, pointing out that this specific PMT brings additional advantages and benefits to a Total Knee Replacement (TKR) procedure. With MyKnee®, the PMT claimed advantages are being achieved by its users.
"… perfect preoperative reliability and anatomical reconstruction"1
"… great advantage during the surgery"1
"… Reliable and straightforward technique…"2
"Instrumentation is reduced and OR efficiency is improved"3
"Surgeon, industry, and hospital revenue is potentially improved with the technique."3
"The present study shows definitively that intraoperative resections and post-operative alignments can be accurately achieved with pre-operative CT planning and using patient-specific instrumentation."4



1. Baldo F, Boniforti B, Patient-specific cutting blocks for total knee arthroplasty: preoperative planning reliability. J Orthopaed Traumatol (2011) 12 (Suppl 1): S23:S88
2. Müller D A, et al, CT based patient-specific cutting blocks for total knee arthroplasty: technique and preliminary radiological results. Podium Presentation at the 71st Annual Congress of the SSOT, Lausanne, Switzerland, June 22-24, 2011
3. Goldberg TD, MyKnee economical and clinical results. Podium presentation at the 6th M.O.R.E. Symposium, Stresa, Italy, May 13:14, 2011
4. Golberg T, et al, Clinical Outcomes of Patient-Specific (MyKeeTM) Cutting Blocks in Total Knee Arthroplasty: Preliminary Prospective Study Results, Poster in 12th Annual Meeting, June 13-16, Seoul, South Korea
5. Leon V, Patient matched technology vs conventional instrumentation and CAS. Poster at the 13th EFORT Congress, Berlin, May 23-25 2012
6. Koch P, et al, Guide de coupe sur mesure pour PTG: presentation de la technique opératoire et résultatsradiologiques préliminars. Podium presentation of the 86th annual congress of the SOFCOT, Paris, France, November 7-11, 2011
7. Dussault M, et al, Preoperative planning accuracy of MyKnee system. M.O.R.E. Journal 2012; 2:22-25
8. Trong M L D, et al, Patient specific cutting blocks improve accuracy of mechanical alignment in total knee arthroplasty, Poster in the 72. Congrés annuel de la Société Suisse d'Orthopédie et de Traumatologie, Basel, 27-29 June 2012
9. Goldber T D, MyKnee economical and clinical results. Podium presentation at the 6th M.O.R.E. International symposium, Stresa, Italy, May 13-14, 2011
10. Koch P, MyKnee system: A new vision in total knee replacement. Leading Opinions – Orthopädie & Rheumatologie 2, 2011:32-35
11. Gagna G, Aspect economiques de la tecnologie sur mesure MyKnee en chirurgie prothetique du genou, submitted to the SOFCOT 2012