The anterior approach for total hip replacement is the only technique that follows an intermuscular and internervous path. An excellent reason why Anterior Minimally Invasive Surgery (= AMIS®) is the ideal approach for atraumatic surgery which is fundamental for a fast recovery. Other approaches, advertised as minimally invasive (posterior, lateral, or double incision), are associated with muscle and/or tendon injury and are therefore only reduced skin incision techniques.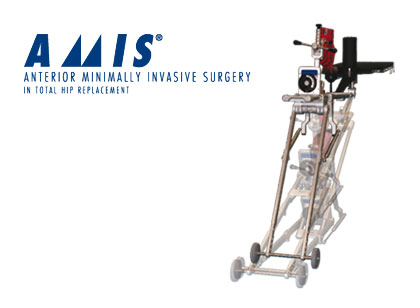 AMIS®, strengthened by several years of clinical experience, provides the highest standard of service and innovation with regard to the anterior approach:
AMIS® specific instruments including the AMIS® Mobile Leg Positioner - the only anterior approach leg positioner with a PATENTED AUTOMATIC TRACTION RELEASE which ensures the optimal, safe and reproducible leg positioning during AMIS® surgery;
the AMIS® Education Program, the leading education package for anterior minimally invasive Total Hip Replacement surgery: surgeon is never alone during his first cases;

specific implants to increase the performance of the surgical procedure;

specific tools to educate patients and support the surgeon's practice;

…and much more!
Would you like to perform the anterior minimally invasive approach?
Come and join us to discover the unique AMIS® world!