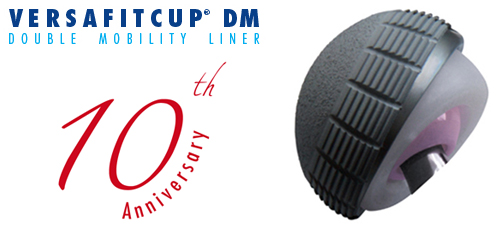 Versafitcup® DM was introduced into the market in 2003 and we are pleased to announce 10 years of clinical success of this double mobility cup.
Since 2003, over 15,000 Versafitcup® DM implants have been used, proving it to be a reliable solution for hip arthroplasty, especially in cases where hip stability may have been a problem. Versafitcup® DM specifically addresses hip stability as it was designed to have the highest jumping distance in the market in order to decrease the risk of hip dislocation1. A recent study by Laffargue et al reported 0% of dislocation rate after 5 years and 99.2% survival rate using revision for any reason as the endpoint and 100% excluding septic failures2.
The Versafitcup® DM, together with the low dislocation rate also provides an increased range of motion and a drastic reduction of the PE wear rate thus increasing its survival rate.
The Versafitcup® DMs excellent performance and success could not be possible without the surgeons who work with us. May we take this opportunity to thank them all.
1Spadini E, Quagliana I, Siccardi F, Bernardoni M, Ponzoni M. Impact of cup design in reducing the risk of dislocation. M.O.R.E. Journal, 2 17-21, January 2012
2Laffargue P, Roumazeille T, Soenen M, Migaud H. Versafitcup® double mobility cup: outcomes at a mean follow-up of 5 years. Poster presentation at the 12th EFORT Congress, Copenhagen, Denmark, 1-4 June 2011