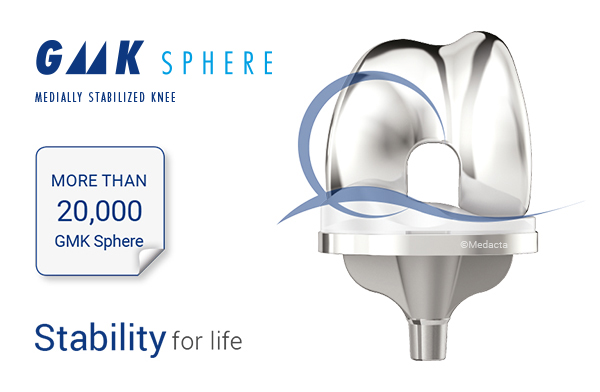 We are proud to announce that in October 2016 Medacta reached the significant milestone of
20,000 GMK SPHERE PROCEDURES WORLDWIDE!
The first GMK Sphere knee was implanted by Prof. Richard Field in London in November 2011.
More than 3,000 GMK Sphere were implanted in a selected number of centres during a 2 year post-marketing clinical evalution to responsively introduce the system into the market.
Following the official launch at the 7th M.O.R.E. International Symposium in Lugano in April 2014, GMK Sphere has encountered a huge worldwide success thanks to a capillary education network, including today more than 60 active Reference Centers all over the world.
Published papers show the GMK Sphere's potential to deliver a stable knee joint (Scott G et al. Bone Joint Res, 2016; Steinbrück et al. Clinical Biomechanics, 2016), which is proven to be a key factor to improve patient satisfaction after TKA (Pritchett JW, The Journal of Arthroplasty, 2011).

Preliminary 2 Years clinical results confirm the GMK Sphere's potential to improve functional scores and patient reported outcomes.
(GMK Sphere. International, multi-centre, prospective, observational study - ODEP study, Richard Field, 8th M.O.R.E. International Symposium)
Thousands of patients have been successfully treated with the GMK Sphere total knee system in more than 300 centres worldwide.
GMK SPHERE kept the promise to surgeons and patients: stability for life!